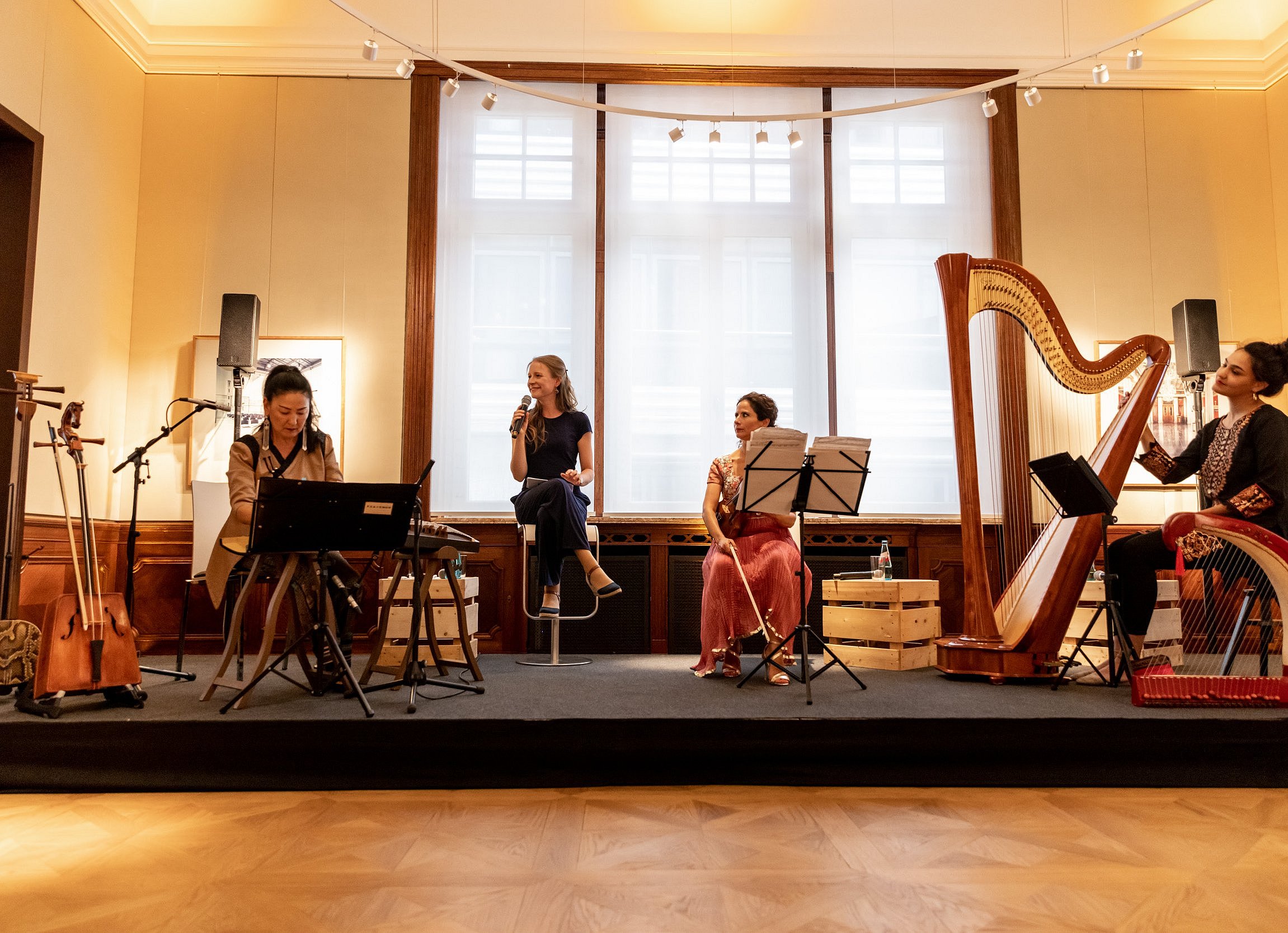 Musikzimmer with the ensemble Perismon
---
For the second concert of the series, the musicians of Ensemble Perismon will put sounds from the Mongolian, Persian and Jewish cultural areas into context. Universal aspects of human togetherness resound in works about longing and happiness, celebration and dancing, as well as dreams, melancholy and love.
On violin, harp, horsehead fiddle and the Mongolian harp Yataga, Hagit Halaf, Enkhtuya Jambaldorj and Samira Memarzadeh create a concert evening that brings home and longing into the music room.
With the "Musikzimmer" series, KfW Stiftung is creating a new stage for music and transcultural encounters. Attending the concerts in the historic ambience of Villa 102 offers the audience not only an insight into the wealth of musical culture, but also the opportunity for personal exchange about the diversity of composition, design and instruments from around the world. Perismon is an ensemble of the transcultural music initiative Bridges - Music Connects.
---
Bridges – Music Connects
Perismon is one of nine transcultural ensembles of Bridges - Music Connects. The initiative has been bringing together musicians with and without a history of flight and migration since the beginning of 2016 and has since played around 400 concerts in Germany and abroad. The members perform in orchestral and ensemble formations characterized by the interplay of instruments from diverse regions of the European, Asian, and American continents while incorporating the musical cultural backgrounds of those involved. Concert activities range from refugee shelters to the Alte Oper Frankfurt to the German government and from concert series in Frankfurt venues and museums to international festivals in Italy and Uzbekistan.  
Bridges – Music Connects has participated in the KfW Stiftung's "ANKOMMER.Perspektive Deutschland" programme and was awarded the Special Impact Award in 2018 and "The Power of the Arts" in 2019. The debut album "Identigration" by the Bridges Chamber Orchestra was released in co-production with hr2-kultur and received the German Record Critics' Award 2/2021 in the category Grenzgänge.
More information about Bridges - Music Connects can be found here.
---
Image Credits:
Musikzimmer with the Ensemble Perismon on 31.08.2022, Photograph Salar Baygan
Other events of interest to you: