Frankfurt Moves!
---
KfW Stiftung initiated the programme Frankfurt Moves! in cooperation with its partners in order to contribute to the diversity of the regional cultural landscape in Frankfurt am Main.
Stipendiat*innen | Frankfurt LAB
Stipendiat*innen | Städelschule
Partner
Through multidisciplinary residency programmes in cooperation with regional and international partners, the programme aims to strengthen multidisciplinary contemporary art production, promote young creative talents and stimulate intercultural exchange across national borders. The international programme Frankfurt Moves! is aimed at cultural professionals in the fields of performing and visual arts.
The world as a guest in Frankfurt!
---
Performing Arts | Frankfurt LAB
Since 2021, KfW Stiftung, together with Frankfurt LAB, has invited performing artists to Frankfurt am Main for four weeks to develop their artistic projects. Coming from different parts of the world, they are given the opportunity to network in the region. They can access professional venues of the Frankfurt LAB and receive dramaturgical and technical support. At the end of the residency, work results can be presented publicly.
From 15 September to 15 October 2023, KfW Stiftung and Frankfurt LAB will once again welcome selected grant holders to Frankfurt am Main.
---
Applkication process
Applications for the residency programme will be invited via an open call. KfW Stiftung and Frankfurt LAB will announce the next application phase on their websites.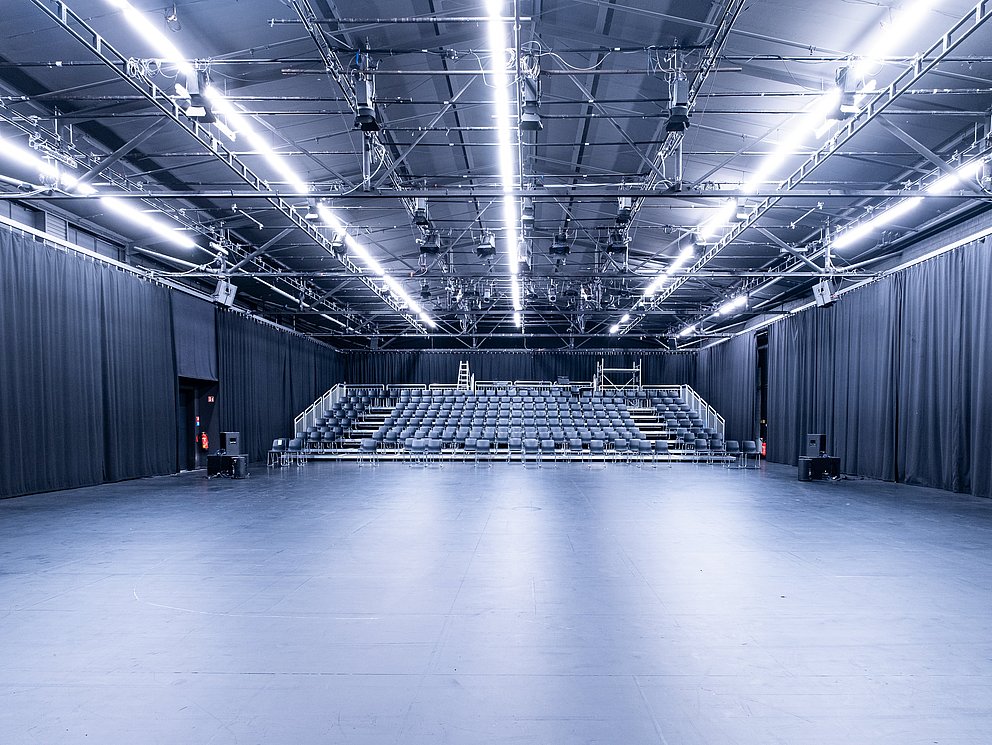 ---
Visual Arts | Städelschule
The exchange programme in cooperation with the Städelschule in Frankfurt and in collaboration with the Kwame Nkrumah University of Science and Technology (KNUST) in Kumasi, Ghana, promotes international emerging artists in the visual arts. Designed as an annual exchange programme, two students at a time are given the opportunity to study at the respective partner university for six months and gain new perspectives in the process.
---
Application process
The residency programme is aimed exclusively at students of the Städelschule in Frankfurt am Main and the Kwame Nkrumah University of Science and Technology (KNUST) in Kumasi. Unfortunately, external applications are not possible.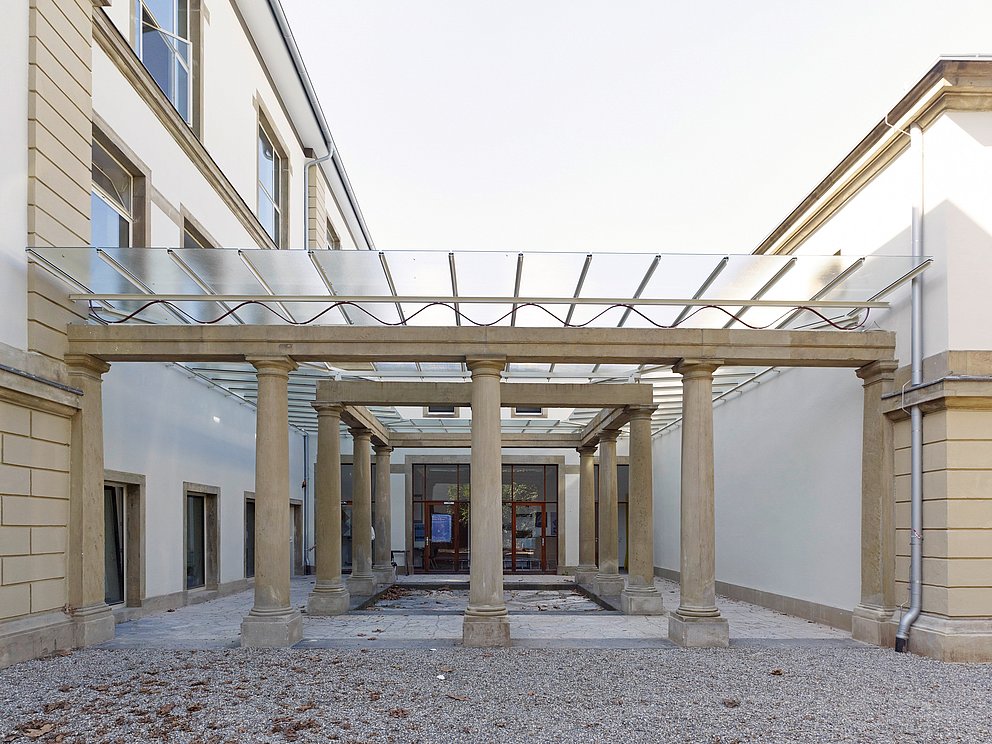 ---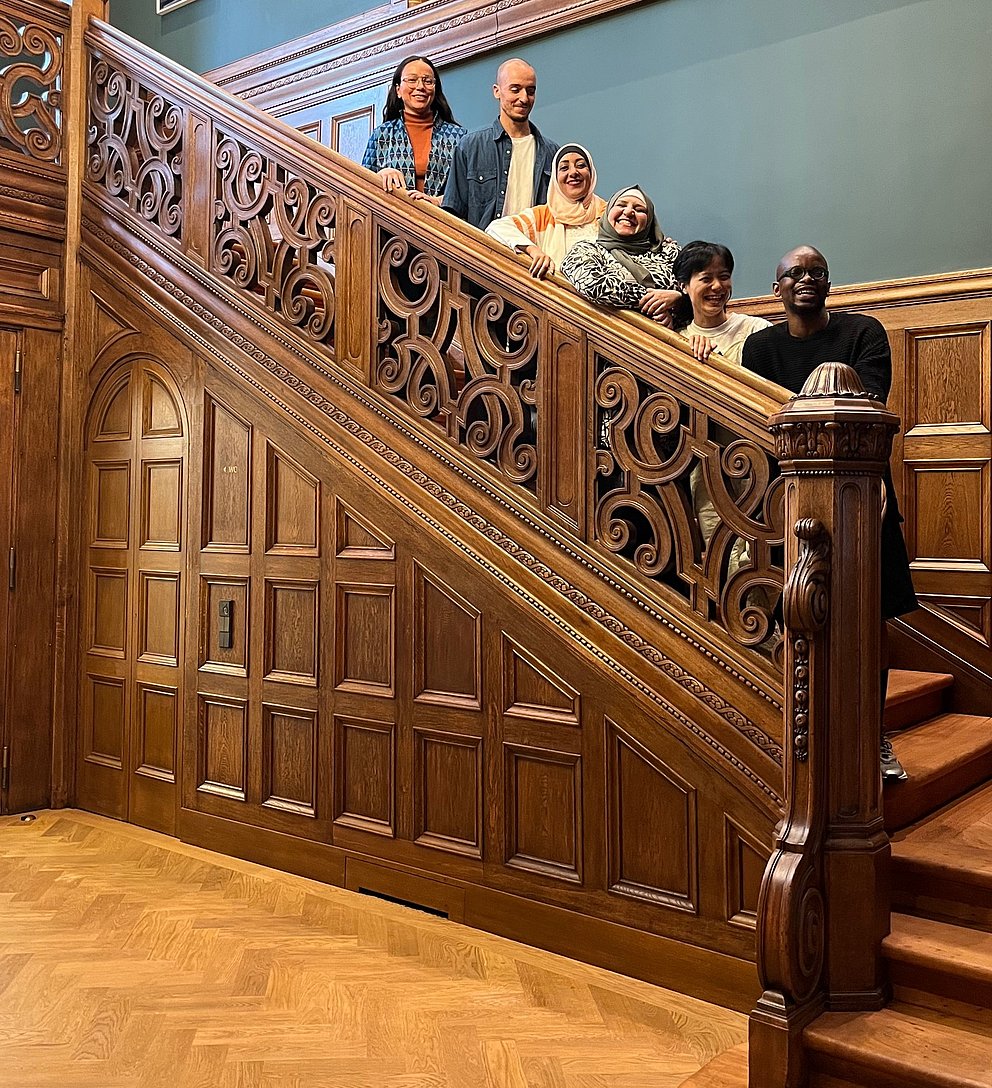 Grant Holders | Frankfurt LAB
Hana Abdelnabi (Gaza, Palestine) graduated university in 2010 with a degree in teaching. Due to high unemployment, she decided to improve her acting skills by joining Theater Day Productions, which teaches acting and directing. Since graduating in 2015, she has worked as an actress, director and storyteller. She works with women and young audiences, inside and outside of school environments.
Hend Abu Hassanein (Gaza, Palestine) has been engaged in the performing arts and theater since she enrolled in the Theater Day Productions diploma programme in 2009. In 2014, she received her degree as a drama teacher, director, actress and storyteller. She has performed in numerous plays and conducts theater workshops with kids in schools and community centers. Moreover, she collaborates with women in the Al-Hakawati (storytelling) programme, where they gather testimonies and concerns from women and use them to create theatrical productions
Mehdi Dahkan (Tangier, Morocco)is a Moroccan choreographer and performer. He is the founder of the Moroccan dance company Cie Jil Z. Through his work, he questions the politics of space and the body by integrating urban and contemporary practices. He seeks to offer thought-provoking performances inspired by the social concerns of Moroccan, Arab and African youth. His work has been presented at festivals in Ireland, France, Belgium, Egypt, Jordan, Tunisia and Germany. He is currently working on a trilogy entitled "Subject To. Only 14. Kms of Resistance", which includes a solo, a quintet and a performance on the theme of immigration and the idealisation of (unknown) space.
Omayra Martínez Garzón (Buenos Aires, Argentina) is a Colombian actress, producer and performer of animated objects. She graduated in Drama at the UNSAM University, Argentina. In 2019, she produced "The butterfly diaspora," a co-production between Brazil, Chile and Argentina about immigrant women around the world, supported by IBERESCENA. With her performances she has participated in various festivals, such as Sommerwerft in Frankfurt and Women on Stage for Peace in Colombia.
Trần Minh Hải (Hanoi, Vietnam) started her career in contemporary dance in 2017 at Kinergie Studio. She aspires to create new journeys of discovery through movement, dance and "play", thereby expanding and deepening connections. She has participated in many shows and performed at A Touch of Belgium, Krossing Over Arts Festival, the L'EGO Show and other Kinergie Studio productions. In 2021, she co-directed and performed in the contemporary dance "A wo|man" – within the framework of the "Antigone Saison"-project, initiated by the Goethe-Institut Vietnam. In 2022, Minh Hải was nominated for the "active artist" category in the Hanoi Grapevine Finest Pandemic Award.
Carla Tapparo (Buenos Aires / Argentina) explores the relationships, interactions and commonalities of perceived opposites - such as physical-digital, body-mind, inside-outside. Her current research focus is the body and how theories of its rejection and alienation can be applied to the body as a biopolitical entity. Carla Tapparo holds a BA and PhD in Fine Arts, with a focus on painting (UNLP, Argentina) and an MA summa cum laude in Art in Public Space (École de Design et Haute École d'Art du Valais, Switzerland), for which she received a Hans Boerg Wyss Scholarship. She was a participant in NIME (New Interfaces for Musical Expression) and works as an art director for Piuke Productions. Carla Tapparo has received prizes and awards from institutions such as INCAA (National Institute for Audiovisual Arts) and her work has been exhibited and performed in Argentina, Ireland, Switzerland and Germany.
Stephanie Kayal is a performer, dancer and choreographer from Beirut, Lebanon. She is currently developing her second original creation, which will premiere at NEXT Festival - Kortrijk 2022 and reflects the current end-time mood in Lebanon. It is a loose continuation of her first work "Evidence of Things Not Seen" (2021), a performance about a family haunted by dance and their past.
Abed Kobeissy is an electro-acoustic musician and composer from Beirut, Lebanon. His work has been performed in over 18 countries and has a strong local flavour, but without claiming traditional or ethnic representation. From solo to collaborative projects to music for film, theatre and dance, his musical language draws primarily from the local urban soundscape and his works often revolve around family and home.
Emmanuel Ndefo is a dancer, choreographer, curator and researcher at the Center for Contemporary Art in Lagos, Nigeria. He is interested in the critical representation of bodies within architectures and alternative sites, e.g. museums, galleries, archives, etc. He believes that through the use of the body and interactive performances, it is possible to experience the relationship between art, audience and space. Through bodies moving in space, thought processes can be influenced, memories evoked and narratives challenged.
Femi Adebajo is a multidisciplinary artist from Nigeria with a focus on dance as a way to access the human mind. As a choreographer, he explores different styles in detail before creating movement patterns with musical accompaniment. His radical choreographies appeal to people all over the world. Femi Adebajo has participated in a number of workshops and trainings with Prof. Wole Soyinka, Segun Adefila, Seun Awobajo, Qudus Onikeku, Sunday Israel, Akpan, Adedayo Liadi (Ijodee), Sahar Rahimi, Isioma Williams, Stine Hertel, Alice Ferl, Tairu Ajibode, Abel Utuedor and Haracio Macuacua, among others. He has worked for global brands such as Adidas and with renowned festivals and companies such as Theater der Welt, Monster Truck, Company Christoph Winkler, Hektomeron Theatre Festival (Romania), Irineu Nogueira Dance Program (Munich) and Sanskar Virtual Dance.
Manjari Kaul is a performer, director and educator from New Delhi, India. She graduated from DUENDE School of Ensemble Physical Theatre (2015) and holds an MA from The School of Arts & Aesthetics, Jawaharlal Nehru University. Most recently, she devised and performed in the digital production "Firefly Woman" supported by ReFrame Arts Genderalities 2.0. She received ThinkArts grant 2022 and is currently developing a new play for young audiences with Aagaaz Theatre Trust. She has taught at DUENDE School and Srishti School of Art, Design & Technology as a guest lecturer and co-directed a production with students from The National School of Drama. Her solo "Chronicle of a Death Foretold", based on the novella by Gabriel Garcia Marquez and commissioned by Instituto Cervantes, has been performed in London, Athens, New Delhi, Bangalore and Lucknow. Manjari Kaul's work deals with the irritation caused by the inappropriate and unusual in live performances. Gender, sexuality and memory are themes she explores again and again.
Savita Rani is a graduate of the National School of Drama (NSD) from New Delhi, India, with a focus on acting. She works as a researcher, actor and director and teaches acting. She recently completed her PhD from the Department of Performing Arts, Pondicherry University with a study titled "A Study on Devised Solo Theatre in India". She has received training in martial arts such as Kalari and Tai-Chi. Savita Rani has worked with renowned theatre makers like Anuradha Kapur, Anamika Haksar, Tripurari Sharma, K. S. Rajendran, Abhilash Pillai, Amitesh Grover, Suresh Anagali, Harish Khanna, Vivan Sundram, Roysten Abel, Khalid Tyabji and Jyoti Dogra. Her work has taken her to Peru, Pakistan, China, Nepal, Austria, Bangladesh, Japan, Thailand and England. Parallel to her research, she developed the solo theatre piece "RIP: Restlessness in Pieces", with which she performed in many places in India and abroad. She is currently working on the new solo "Notions", which is supported by Serendipity Arts Festival 2020.
Priiya is a performer, dancer and video artist currently based in Berlin. They received an MA in Movement Direction from the University of London and is on a research journey to establish roots in the moving body. Priiya thinks about the way we organise bodies and space in an attempt to make diverse languages, fictions, memories and identities flow into each other.
This Is Not Lebanon
Festival for Visual Arts, Performance, Music and Talks (26.08. – 12.09.2021)
Frankfurt LAB & Künstlerhaus Mousonturm
Lebanon has experienced a fourfold catastrophe in a short period of time: the stalling of the revolution in October 2019, hyperinflation as a result of a bottomless fall of the Lebanese lira, the explosion in the port of Beirut in the summer of 2020, and most recently the pandemic.
This Is Not Lebanon gave a platform to artists who defy the simplistic reporting on the situation in Lebanon and develop multi-layered perspectives on the country. The three-week festival at the Mousonturm and SOMMERBAU in Frankfurt presented mainly younger protagonists from the fields of performance, visual arts, choreography and music.
Four new artistic works were created as part of Frankfurt Moves! - the residency programme of the KfW Stiftung and the Frankfurt LAB. Ghida Hachicho explored the dynamics of group behaviour with four other performers in the SOMMERBAU. Marwa Arsanios continued her feminist work with a performative video installation on questions of heritage, property and value. Bassem Saad's film and text-based artistic work addresses the distribution of violence and desire, and Ali Eyal's multidisciplinary practice explores contemporary forms of struggle and collective violation. Saad and Eyal both presented performative works for the first time as part of the festival.
Developed and curated by Matthias Lilienthal, Christine Tohmé, Anna Wagner, and the members of the Ensamble Modern Jaan Bossier, Uwe Dierksen and Christian Hommel.
The festival in Frankfurt will be followed by a second part of the festival in Beirut in October 2021, in collaboration with the Goethe Institut Lebanon and Ashkal Alwan, a leading centre of the Lebanese arts scene. It has been funded by the German Federal Cultural Foundation, the Goethe-Institut, the Ensemble Modern Patronatsgesellschaft e.V. and its accompanying discourse programme is funded by the Federal Agency for Civic Education/bpb.
---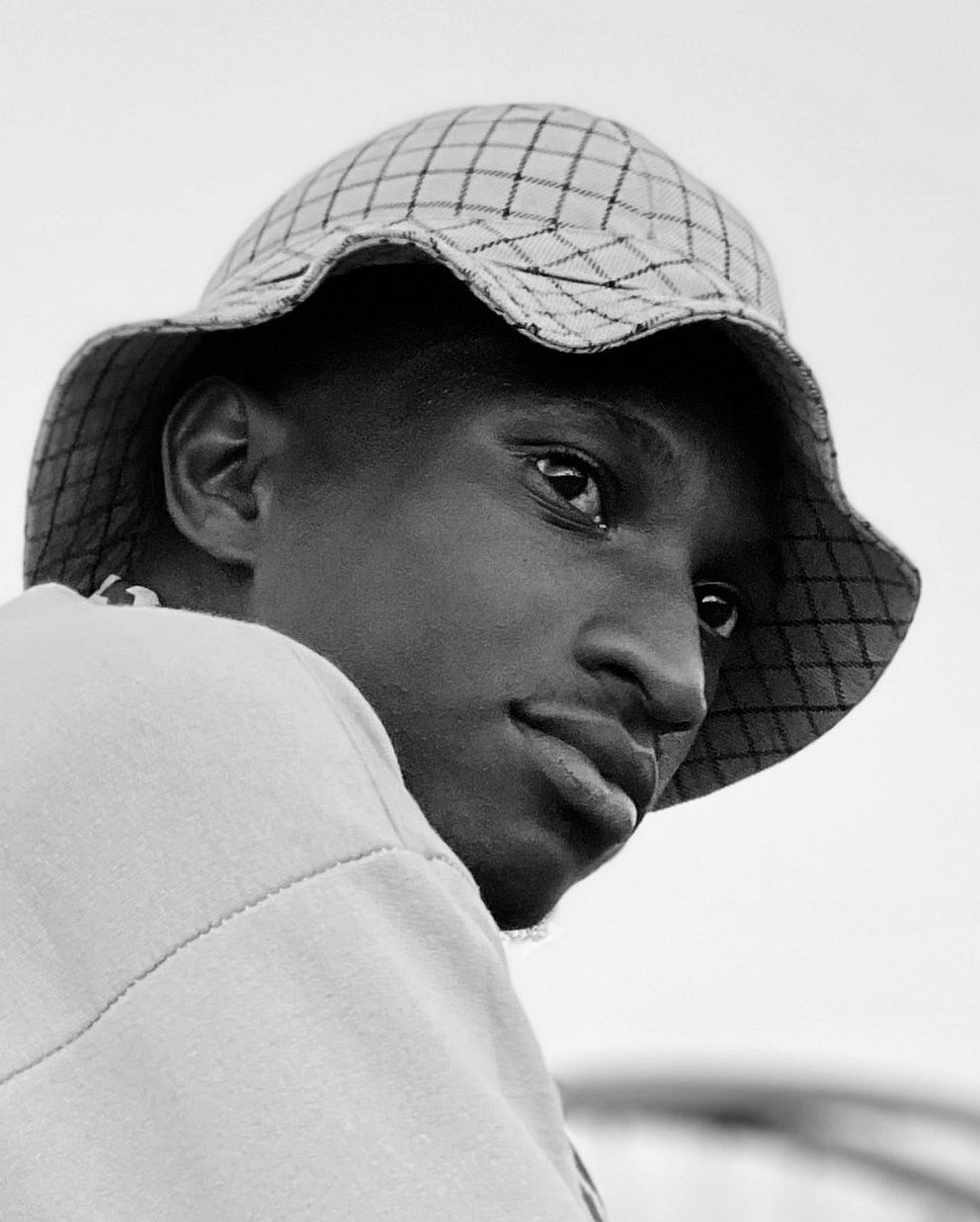 Stipendiat*innen | Städelschule
Daniel Arnan Quarshie employs his memories and experiences through drawing as a point of departure in engaging social themes and general questions in art. His work deals with loss by giving form and presence to absence through memory. Quarshie's drawings, built in fragments or layers or both, are reinterpretations of time, space and experience- holding together the past, present and future.
Born and raised in Ghana, Quarshie holds a BFA in Painting and Sculpture from KNUST, Kumasi, and is currently pursuing his MFA in the same department. In 2022, Quarshie participated in documenta fifteen and Gasthof22 as one of the representatives of blaxTARLINES, Kumasi. Later that year, he participated in Unlimited, Gallery 1957, Accra, after which he was awarded a residency with the gallery. In April 2023, Quarshie opened his first solo exhibition, "Sympathetic Magic", in Gallery 1957, Accra. He has since had his second solo exhibition, "Home", with Compound House Gallery in Kumasi, and is also a participant of "Unlimited II", Gallery1957, Accra.
---
Partner
Since it was founded in 2009, Frankfurt LAB has established itself as a vital performance and producing space for contemporary performing arts and music in the Rhine-Main region. The aim of its five partner institutions Dresden Frankfurt Dance Company, Ensemble Modern, Hessian Theatre Academy, Frankfurt University for Music and Performing Arts (HfMDK) and Künstlerhaus Mousonturm is to connect the work of internationally renowned ensembles with supporting emerging artists and to encourage a productive exchange between dance, choreography, performance, theatre and music. Frankfurt LAB offers the ideal conditions for this: with facilities of a high technical standard and in a protected setting, artists can rehearse and show their work completely flexibly in a 650 m² stage area and on a 300 m² studio stage.
Continue to Frankfurt LAB
Städelschule is an art school in Frankfurt am Main. Since 1817 it has been committed to provide equal, international, experimental, and independent artistic education. Public events include "Rundgang", the annual student exhibition, "Absolvent*innenausstellung", the graduate exhibition and the lecture program.
For more information, please click here.
---
Programme Management
Daniela Leykam
---
Photo credits:
01. Image: Frankfurt LAB, Photo: Christian Schuller
02. Image: Frankfurt LAB
03. Image: Städelschule, Photo: Tomas Maglione
04. Image: Frankfurt LAB, Photo: Christian Schuller
05. Image: Städelschule, Photo: Jörg Hempel
06. Image: KfW Stiftung
07. Image: Daniel A. Quarshie, Photo: Caleb K. Prah