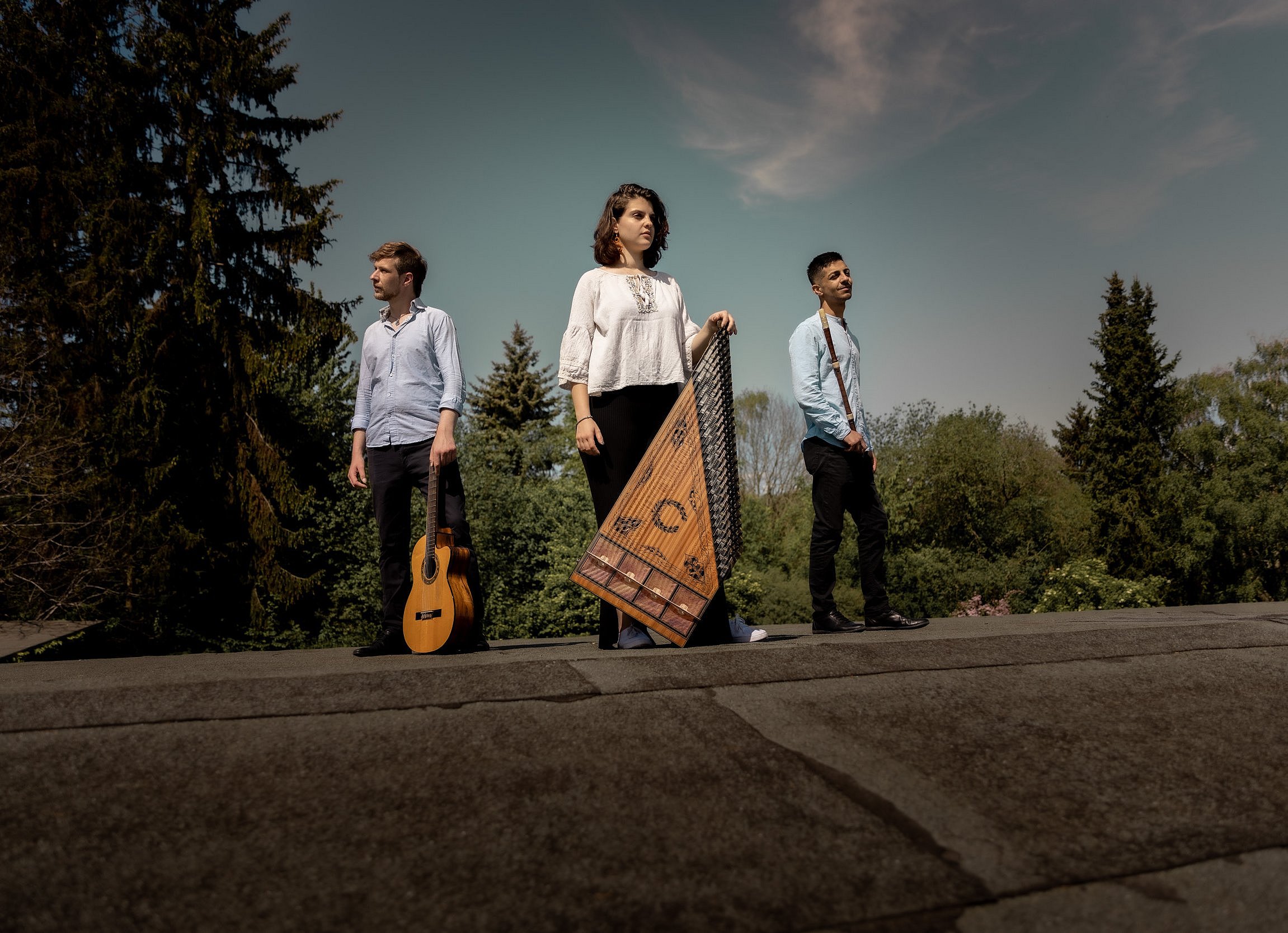 Musikzimmer with the ensemble Balkan Spirit
---
The ensemble Balkan Spirit came together in 2022 in the framework of Bridges - Music connects and picks up the musical traditions of its musicians: Vladimir Dindiryakov from Bulgaria (kaval), Eleanna Pitsikaki from Greece (kanun) and Dennis Merz from Germany (guitar, hang drum, double bass) present music from the Balkan states while also incorporating elements of jazz and flamenco. All three musicians are members of the Bridges Chamber Orchestra and bring with Balkan Spirit a diverse repertoire in an extraordinary line-up on stage.
---
Bridges – Musik verbindet
Perismon is one of nine transcultural ensembles of Bridges - Music Connects. The initiative has been bringing together musicians with and without a history of flight and migration since the beginning of 2016 and has since played around 400 concerts in Germany and abroad. The members perform in orchestral and ensemble formations characterized by the interplay of instruments from diverse regions of the European, Asian, and American continents while incorporating the musical cultural backgrounds of those involved. Concert activities range from refugee shelters to the Alte Oper Frankfurt to the German government and from concert series in Frankfurt venues and museums to international festivals in Italy and Uzbekistan.  
Bridges – Music Connects has participated in the KfW Stiftung's "ANKOMMER.Perspektive Deutschland" programme and was awarded the Special Impact Award in 2018 and "The Power of the Arts" in 2019. The debut album "Identigration" by the Bridges Chamber Orchestra was released in co-production with hr2-kultur and received the German Record Critics' Award 2/2021 in the category Grenzgänge.
Mehr Informationen zu Bridges finden Sie hier.
---
Image Credits:
01. Ensemble Balkan Spirit, Photograph: Salar Baygan
02. Musikzimmer with the Ensemble Eliá on 18.11.2021, Photograph Salar Baygan
03. Ensemble Balkan Spirit, Photograph: Salar Baygan
04. Ensemble Balkan Spirit, Photograph: Salar Baygan
05. Musikzimmer with the Ensemble Eliá on 18.11.2021, Photograph Salar Baygan
Other events of interest to you: