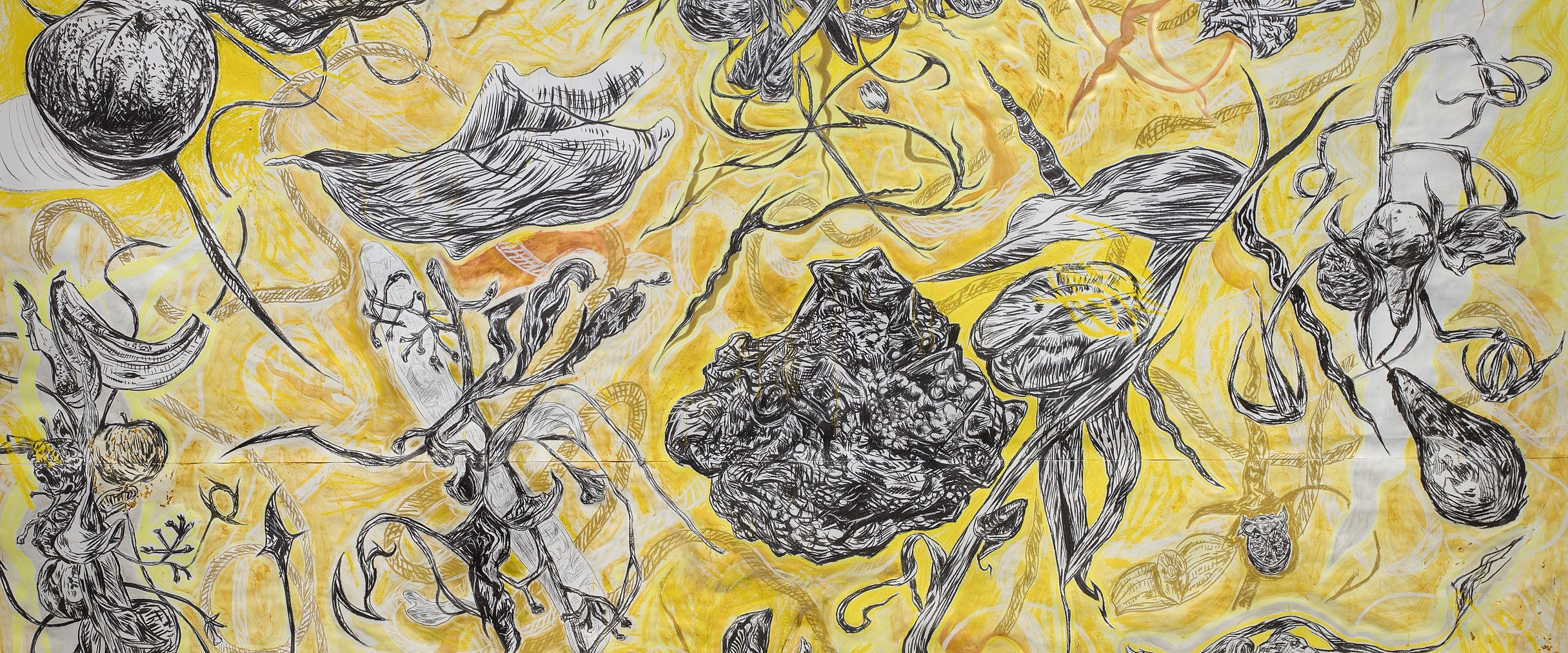 Daniel Lie - Scales of Decay
---
The Villa 102 will be opening its doors once again: Scales of Decay by Daniel Lie is the third instalment in a series of exhibitions in which KfW Stiftung stipend holders transform the historic Villa 102 into an art installation.
Daniel Lie first dedicated themselves to the medium of drawing during their time in Berlin as part of KfW Stiftung's artist-in-residence program in cooperation with the Künstlerhaus Bethanien. Their expressive works on paper are drawn using charcoal, watercolours, turmeric, pencil and linseed oil gel, and were inspired by an arrangement of fruit and vegetables on a plate that was left to slowly dry up and rot in the studio over the course of several months. In the compositions we discover – cropped and magnified – motifs such as insects, fruit, marine life and natural elements combined in gestural arrangements. In the works we also find references to Indonesian culture. The artistic interaction with Lie's large format works, and the act of drawing intuitively with liquid pigments and with no prior design was both a performative and a physical process.
Time and decay are the central themes of Daniel Lie's works. The artistic leitmotif of "rottenness" becomes a starting point for change and process. Their works intend to break away from binary thought structures, for example between the origin and the present day, between life and death. Daniel Lie's works are performative in nature: Organic materials such as plants, mushrooms, fabric, clay and earth transform, decay, sprout new shoots, change colour or smell. They thus become artistic and productive collaborators in the works.
Daniel Lie's time at the Künstlerhaus Bethanien was preceded by a several month long research stay in Indonesia to explore the tangle of their own roots: Their Chinese-Indonesian family emigrated from Indonesia to Brazil in the 1950s. Lie's year-long residence in Berlin – in the middle of the pandemic lockdown – provided time to reflect on their origins and transcultural present. Thus, this group of works is inextricably linked to a deeply personal and subjective biographical moment.
Sculpturally installed, Scales of Decay interacts with the building of the Villa 102 and once again expands our view of this historic monument. Daniel Lie's drawings inspire us to regard the current villa in a state of tension between stability and decay. Instead of seeing the villa as a witness to its own completed history, Lie emphasises its present state and continuities.
You can view the exhibition trailer here.
Public Programme
Guided Tours (in German)
Tuesday, 10 May, 18-18.45
Tuesday, 24 May, 18-18.45
Sunday, 19 June, 13-13.45
Curator's Tour with an Aperitif (in German)
Capacity is limited for the free public tours. Guided group tours upon request: veranstaltungen@kfw-stiftung.de.
---
Artist Talk
Thursday, 19. June 2022, 16:00 (cet)

The event will be held in English.
In a virtual artist talk, Daniel Lie speaks with Nomaduma Rosa Masilela (curator, based in Berlin) about the exhibition "Scales of Decay". The conversation focuses on the processes involved in the creation of the new series of works on paper, the underlying artistic motifs of time and decay and the tension between art and the site of memory.
Lie, known for monumental installations using plants, fungi and earth, has for the first time created works on paper. The evocative series of works is drawn using charcoal, watercolours, turmeric, pencil and linseed oil gel. Together with Masilela, Lie will talk about this series of works and the accompanying publication. They will also address the curatorial perspective and treatment of the landmarked Villa 102.
To see the recorded talk, please click here.
Facts
Date: Tue, 10. May 2022, 13:00 Uhr
Duration: 10. May - 19. June 2022
Location: Villa 102 Bockenheimer Landstraße 102, 60323 Frankfurt am Main



Opening Hours
Tues-Fri, 13-19
Sat-Sun, 12-18
Closed mondays
Open on bank holidays (except Whit Monday)
Free Entry
On Friday, 3 June, the exhibition will be open only until 3 pm (15:00).
Partner
For the protection of all guests, we ask that you wear a medical mask and keep your distance.
If you are currently suffering from symptoms of illness, we ask you to refrain from attending the event.
You can find more information about our hygiene concept here.
Other events of interest to you: