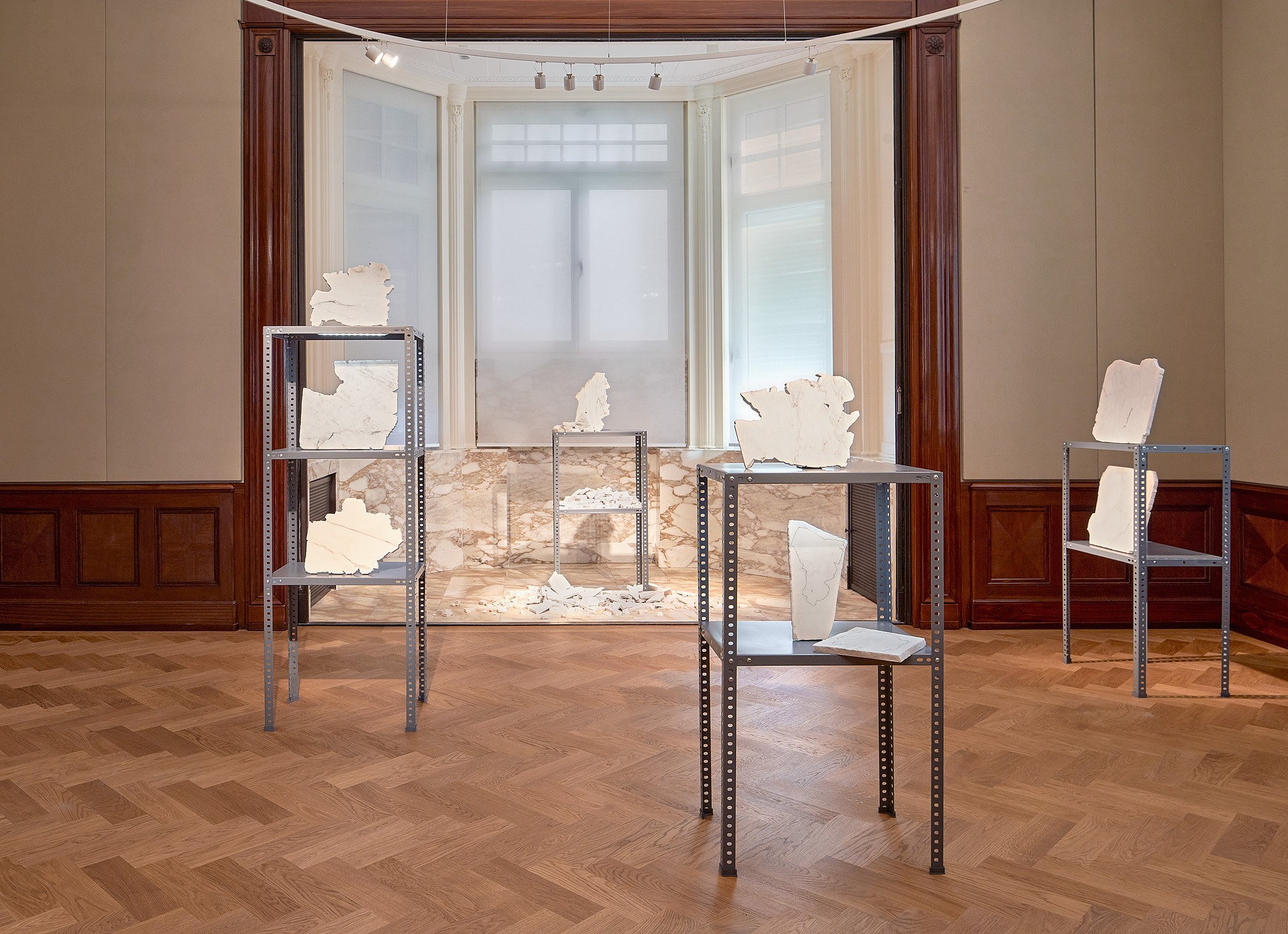 Notions of collective memory
---
The exhibition explores notions of collective memory in the context of southern Africa's colonial past. Both artists draw on investigative archival research of historical interconnections which they translate into expansive sculptural installations.
Starting point of the project ... these gestures of memory by Gladys Kalichini (*1989, Zambia) is the artist's critical examination of the erasure and invisibility of specific female freedom fighters in the narratives of colonial independence in Zambia and Zimbabwe in the 1960s-1980s. In this context, Kalichini addresses concepts of mourning, memory, and forgetting. Her multimedia installations foreground the complex processes of commemoration and remembrance.
Marble Dust by Talya Lubinsky (*1988, South Africa) ties in with the artist's research on the restitution of human remains of political activists in apartheid South Africa in the 1960s. Through her work with the increasingly deteriorating archival documents, the inherent tension between this decay as well as the transience of human bodies on the one hand, and the permanence of cemeteries and memorial sites on the other, became the focus of her work.
The projects were developed as part of the KfW Stiftung's Artist-in-Residence programme in cooperation with Künstlerhaus Bethanien Berlin 2019-20.
Guided tours:
Tuesday, 31. August, 18-18.45 Uhr
Thursday, 2. September, 12-12.30 Uhr
Thursday, 9. September, 12-12.30 Uhr
Saturday, 11. September, 15-15.45 Uhr
Wednesday, 15. September, 12-12.30 Uhr
Tuesday, 21. September: 12-12.30 Uhr
Friday, 24. September, 16-16.45 Uhr
Capacity is limited, registration is required.
Facts
Date: Tue, 31. Aug 2021, 14:00 Uhr
Duration: 31. August - 26. September 2021
Location: Villa 102

Bockenheimer Landstraße 102
60323 Frankfurt
Opening hours:
Wednesday – Sunday: 12 – 18 h, Tuesday: 12 – 20 h, Monday closed
Free entry. Access to the exhibition is only possible for vaccinated, recovered or tested persons.
Video
Partner
Other events of interest to you: