Art Connection Africa
---
"Art Connection Africa" is a cooperation of KfW Stiftung and Triangle Network to foster visual art exchanges, capacity building and informal learning activities within Sub-Sahara Africa. The activities, such as residencies or workshops hosted by selected partner organisations address KfW Stiftung's commitment to stimulate intercultural dialogue and support free-thinking.
Stipendiat*innen 2021
Stipendiat*innen 2019/20
Publikationen
Partner
The initiative considers both the need for providing high quality and impactful activities involving the wider community, while supporting the professional development of artists and other arts professionals in the region. Finally, the programme addresses the need for greater structural sustainability of Triangle Networks and its partners within Africa.
"Art Connection Africa" was initiated in September 2019 with residencies for artists and curators at the Bag Factory in Johannesburg. In 2020 the programme will be continued and expanded in partnership with 32 ° East | Ugandan Arts Trust in Kampala.
Application and selection process:
The programmes and initiatives are advertised publicly. The selection is made by a jury.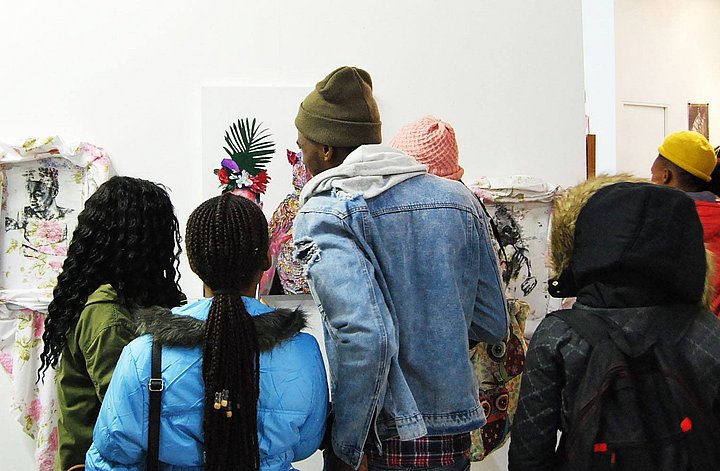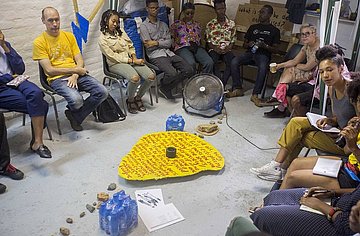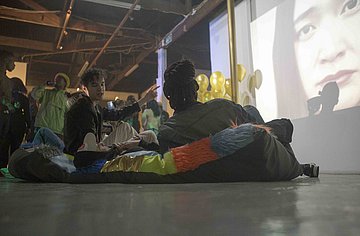 ---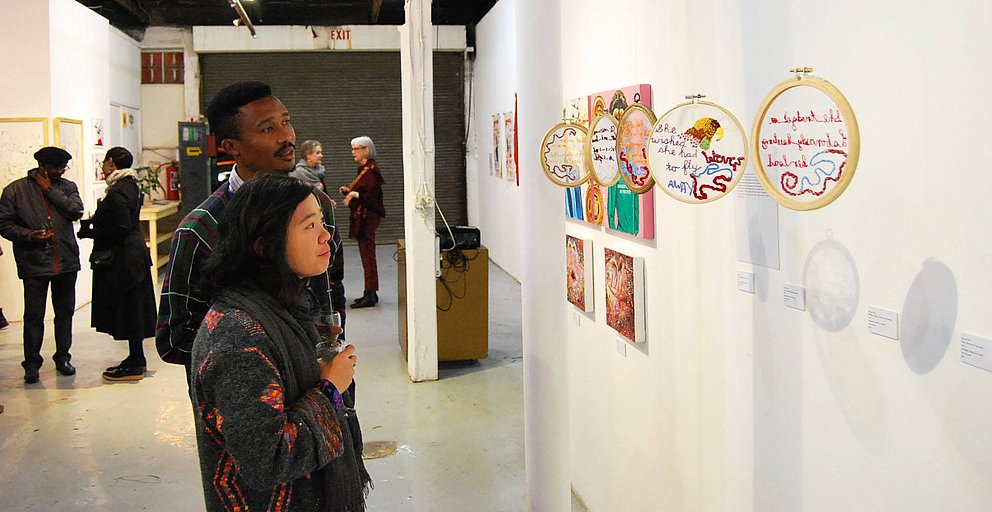 Grant Holders 2021
EM Mirembe (Uganda) is a 2021 Center for Arts, Design + Social Research Fellow and also a KLA ART 21 Curator Fellow with Uganda Arts Trust. Their work has been published on Literary Hub, Africa is a Country, Johannesburg Review of Books, African Feminism, AFREADA, Africa in Words, and others. Also, they are Managing Editor of Writivism.
EM Mirembe joined the residency programme at Bag Factory from 2 September to 30 November 2021. The residency is part of Art Connection Africa, a cooperation of KfW Stiftung and Triangle Network to foster visual art exchanges, capacity building and informal learning activities within Sub-Sahara Africa.
Kutlo Mabua (*1992) is a visual artist from Mahalapye, Botswana. In his multi-disciplinary works in ink, charcoal and paint Mabua focuses on the fragility of human relations greatly influenced by identity and belonging. In unearthing and interrogating "The Self", Mabua investigates displacement and disruption while also exploring how a sense of belonging is developed amongst the plural and collective. His works are heavily influenced by the now, so every dot carries the depth of the artist's emotions, memory and the present complexities of that place and time, making every art piece uniquely personal.
Kutlo Mabua joined the residency programme at Bag Factory from 1 September to 30 November 2021. The residency is part of Art Connection Africa, a cooperation of KfW Stiftung and Triangle Network to foster visual art exchanges, capacity building and informal learning activities within Sub-Sahara Africa.
Tila Likunzi (*1982 in Luanda, Angola) is an independent art curator and researcher since 2017. She worked for many years as a translator, interpreter, proof-reader and copywriter before joining the Arts. In addition to curating Angolan contemporary art both independently and for Jahmek Contemporary Art, she closely follows ideological currents of African origin and descent and is dedicated to the independent study of contemporary African philosophy and theology, looking into the art and thinking behind Angolan rituals, customs and religious beliefs. She is a co-founder of Lugânzi – The Living Archive. Her upcoming research at Bag Factory will focus on contemporary African photography and photographers.
Towards a City – Possibilities in Inner-City Johannesburg and Luanda
The publication was developed during Tila Likunzi's residency at the Bag Factory in Johannesburg and is online available here.
"This publication articulates a photographic conversation between Luanda and Johannesburg, in an image space where our cities feature not as isolated events, but as part of larger shared experiences of urbanism in Africa. It is an experiment both connecting and sharing visual and sensual knowledge of our cities and valuing the role artists and photographers have played in documenting the spatial, temporal, social, cultural, (hi)storical, racial, structural, financial and economic phenomena of our current societies and the questions and problems that these contemporary societies pose, in ways that reach out to and communicate with creative and academic thinkers discoursing on the same subjects. It was inspired by my encounters with photographers in Luanda (particularly Rui Magalhães), in 2020, and by the essays and podcasts of African Mobilities 2.0, Circulation and Cartographies (July 14 - October 9, 2020) curated by Dr. Mpho Matsipa, as well as the 2021 season of WISER concept-based podcasts and transcripts on Eight ways to think Unsettlement. It aims to localize the discourse of documentary and street photography within the realms of decolonial imagery and image-making processes. This project is intended to grow as other curators researching photography and photographic archives in other cities in Africa and the African Diasporas join the conversation."
Thebe Phetogo (*1993 in Serowe, Botswana) is a painter currently living and working in Gaborone, Botswana. He obtained a Postgraduate Diploma in Fine Art in 2017 and a Master of Fine Arts with distinction in 2019 from the Michaelis School of Fine Art in Cape Town, South Africa. To date, Phetogo has had two solo exhibitions in South Africa and Nigeria as well as participating in several group exhibitions in Botswana and South Africa. Phetogo was a 2019 Cassirer Welz Award finalist, a 2020 Emerging Painting Invitational Prize finalist and participated in the Arthouse Foundation residency in Lagos, Nigeria in early 2020. Thebe Phetogo is also a founding member of The Botswana Pavilion artist collective.
---
Grant Holders 2019/20
Georgina Maxim is working as an artist and curator with over a decade of arts management and curatorial practice. From 2 February 2020 until 29 April 2020 she was on a 3-month residency at the Bag Factory as part of Art Connection Africa.
Maxim together with Misheck Masamvu co-founded Village Unhu in 2012, an artist collective space that has been providing studio spaces, exhibitions, workshops and residency programs for artists – young and professional.
As an artist, Maxim's work combines weaving, stitch work and the utilisation of found textiles creating objects that evade definition. Maxim describes her artistic work as 'the memory of'. Maxim was a nominee of the Henrike Grohs Award (Goethe Institute, Abidjan) 2018, has exhibited extensively with works being collected internationally and regionally and currently is represented by the Sulger-Beul Gallery in London. She was selected to represent the Zimbabwean Pavilion at the 58th International Venice Biennale in 2019.
On April 25, Georgina Maxim will participate in a virtual open day of The Bag Factory's open studios. Furthermore, the panel discussion with the artists Andreas Andersson (Sweden) and Erla Haraldsdóttir (Iceland) will take place digitally online.
Elizabeth Kobusinge Karamagi is a self-taught artist based in Kampala, Uganda. From 2 September 2019 until 30 November she was on a 3-month residency at the Bag Factory as part of Art Connection Africa.
Karamagis' work is situated within the expression of personal emotions and the state of mind. While using various media, she explores her experiences with anxiety and depression. She explores mental health as illustrated by the interior worlds of women and has used art as a coping mechanism since 2016.
Paints, ink and fabric on paper and canvas are combined to capture mood, emotion and perceived temperament. During her stay at the Bag Factory, Karamagi experimented with various printing techniques on hand-made paper in the local printing studio "Artist Proof Studio". She presented her works at a public open studio.
Fadzai Veronica Muchemwa is a researcher, writer and emerging curator working in Harare. She is currently the Curator for Education and Public Programming at the National Gallery of Zimbabwe in Harare. From 2 September 2019 until 30 November she was on a 3-month residency at the Bag Factory as part of Art Connection Africa.
Muchemwa's interests lay in the history and memory of African storytelling, gender and sexuality in visual art, conceptual art, performance, new communities of protest and transgression, histories of cities, topographies of knowledge production and sites of transition. Fadzai is also interested in the diaspora and how it shapes the social fabric of the continent as well as how the global North has influenced trends in Africa. As an emerging curator, she has worked for numerous international projects, e.g. the Zimbabwe Pavilion at the 56th Venice Biennale in 2015.
During her residency in Johannesburg, she hosted a writing workshop with five cultural practitioners, who produced texts, along with interviews Muchemwa conducted with Johannesburg-based artists, for the publication Curating Johannesburg: rest.less, under siege/in transition. Muchemwa's residency culminated with the book launch and panel discussion titled 'The Violence of an Anxious Mind'.
---
---
Partner
Established in 1982, Triangle Network​​​​​​​ is a global network of artists and visual arts organisations that support professional development and cultural exchange amongst artists, curators and other arts professionals throughout the world.
Bag Factory is an independent Non-Profit Organisation that provides a community and studio space for practicing visual artists. With a focus on exchange of ideas and innovation, Bag Factory hosts resident artists' studios and develops a programme of international residencies, exhibitions, specialist skills workshops and audience outreach activities and events. Bag Factory has been supporting and promoting the visual arts in South Africa since 1991. It is affiliated with the Triangle Network.
32° East | Ugandan Arts Trust is an independent non-profit organisation, focused on the creation and exploration of contemporary art in Uganda. Their multi-purpose resource centre is based in Kampala, Uganda and includes studios, accommodation for artists in residence, a contemporary art library, computers & editing suites, meeting areas and outdoor workshop space. The programme offers artists in residence and members one on one drop in sessions for critique and professional development, workshops for practical skills and the regular discussion series "Artachat" for social engagement.
---
Programme Management
Daniela Leykam

---
Photo credits:
01. Image: Source / Author / Photographer: Bag Factory
02. Image: Source / Author / Photographer: Bag Factory
03. Image: Source / Author / Photographer: Bag Factory
04. Image: Source / Author / Photographer: Bag Factory
05. Image: Source / Author / Photographer: Olivia Botha