Senckenberg Naturmuseum Frankfurt
---
It is impossible to imagine Frankfurt without its natural history museum Senckenberg Naturmuseum. The distinguished institution actively develops new educational programmes for the many children and teenagers who want to know more about the diversity of life on their visit to the museum.
KfW Stiftung supports the educational service of Senckenberg Naturmuseum in its efforts to devise new teaching materials for follow-up lessons after school visits and to develop innovative ideas for management and workshops.
Additionally, KfW Stiftung funds the project "Kinder machen Bücher" ["Children creating books"]. Together with the museum's educational staff, groups of children from underprivileged areas of the city collect and write down their impressions of the natural history museum for a book which will be published in the Senckenberg-Bücher series.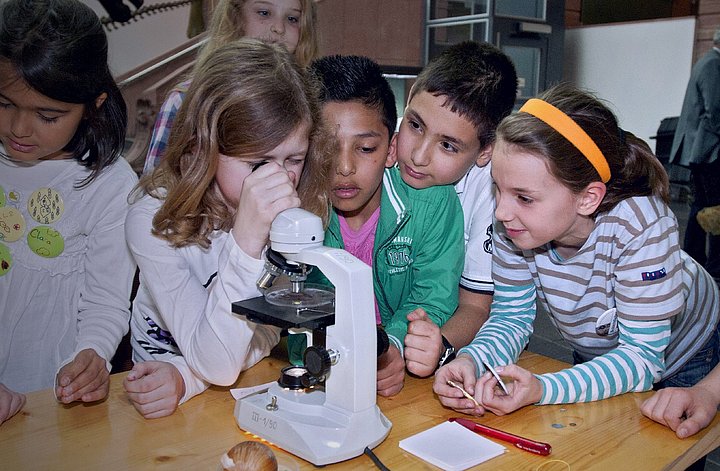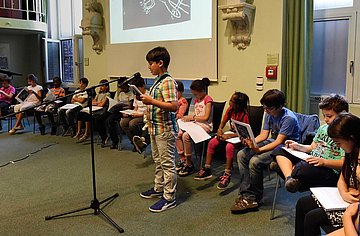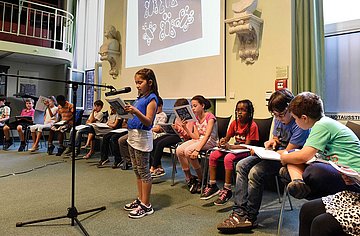 ---
Book Project for children
What was the world like 100 million years ago? And what do scientists actually do? How long will it take for an anaconda to be hungry again after it has eaten a capybara? Pupils from different child-care facilities in Frankfurt can get answers to this and many more questions from the experienced guides as well as from the scientists at the natural history museum Senckenberg Naturmuseum.
There are many exciting exhibits at Senckenberg Naturmuseum: ancient dinosaurs, giant whales, countless birds, and much more. Each of these exhibits has its own story to tell. What am I? Where do I come from? Why am I special?
The girls and boys of the "Buchkinder" courses write about these topics in the books that they create. First of all, during two visits the children get insights into the natural history museum. The second visit offers a special highlight: they take a peek behind the scenes of the museum and meet the scientists. Senckenberg scientists investigate the role of the many different species – of biodiversity – on earth. The pupils have the opportunity to get to know the scientists' work.
Following their visits, they participate in a children's book writing course held in their child-care facilities for several weeks, where they learn to put their impressions into words and images. Every child designs two pages for the publication, which helps them to develop their artistic and verbal skills. They present the finished book to their parents and friends during a reading at Senckenberg Naturmuseum. At the event, the children receive much applause for their outstanding performance, boosting their self-confidence.
So far six books have been created as part of this project.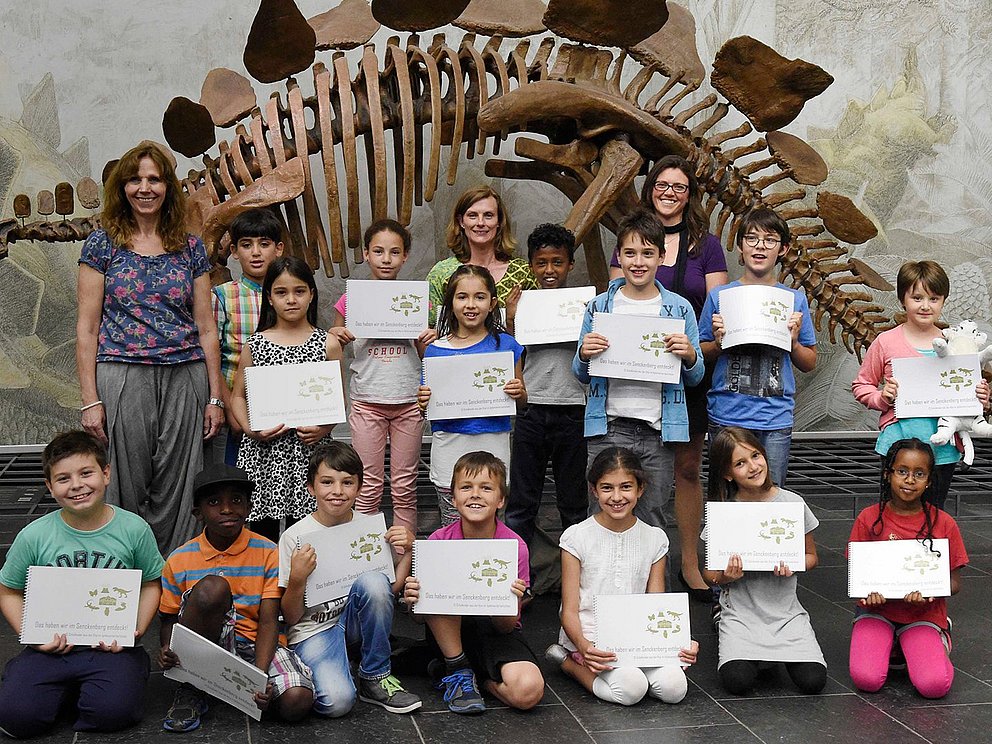 ---
---
Programme Management
Pia Puljanic
---
Photo credits:
01. Image: Source: Author / Photographer: Senckenberg Gesellschaft für Naturforschung
02. Image: Source: Author / Photographer: Senckenberg Gesellschaft für Naturforschung
03. Image: Source: Senckenberg Gesellschaft für Naturforschung, Author / Photographer: Sven Tränkner
04. Image: Source: Senckenberg Gesellschaft für Naturforschung, Author / Photographer: Sven Tränkner