Street-Art Brazil
---
KfW Stiftung is the main sponsor of the Street Art Brazil exhibition organised by SCHIRN Kunsthalle Frankfurt on occasion of the 2013 Frankfurt Book Fair which featured Brazil as its guest of honour.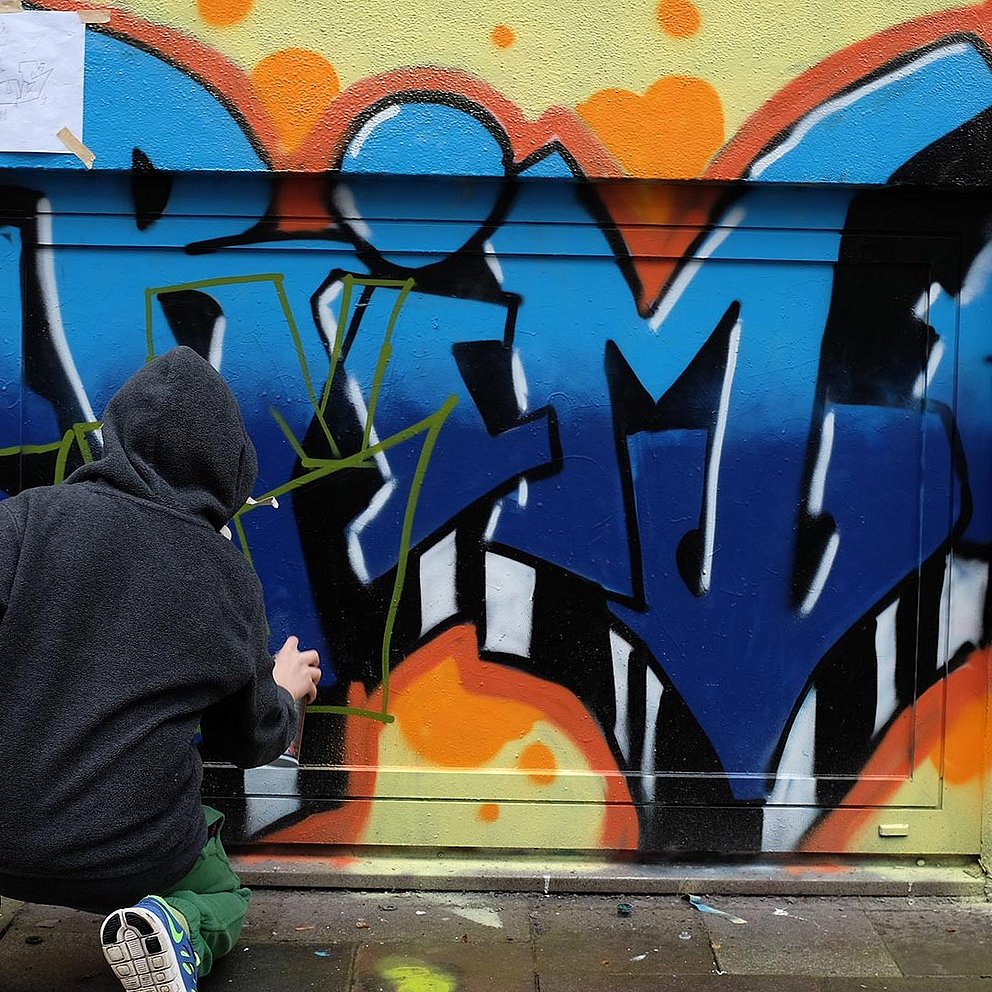 The exhibition showcases the particularities of the Brazilian graffiti scene and brings it to life in Frankfurt – not in the gallery space of SCHIRN Kunsthalle but in the streets all over the city, including at one of KfW's very own offices: a spectacular painting by Rimon Guimarães is displayed along a temporary fence measuring 50 metres outside the KfW building at Bockenheimer Landstraße 102-104 that is currently undergoing construction work. Guimarães has previously been a special guest at the Graffiti Academy, an event organised by SCHIRN Kunsthalle and supported by KfW Stiftung at this very location in April 2013.
Dates
5 September to 27 October 2013
SCHIRN Kunsthalle Frankfurt
Römerberg
60311 Frankfurt
Germany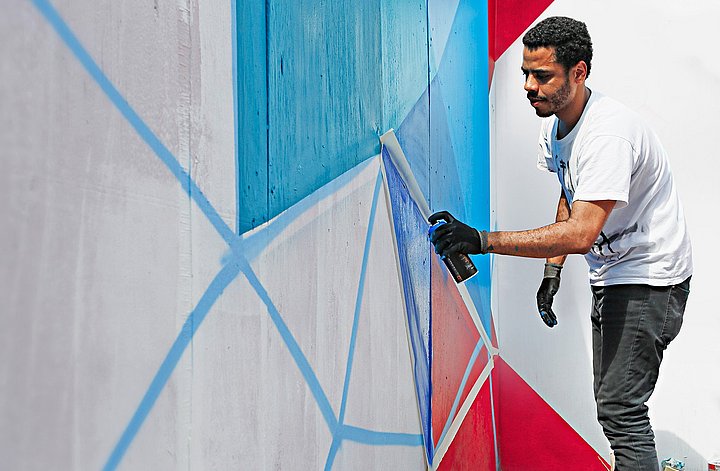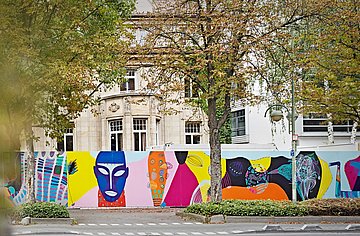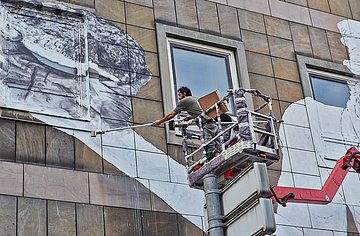 ---
Graffiti Academy
Thanks to KfW Stiftung, a KfW office building due to be demolished comes to life as an artistic playground. In April 2013, the disused building situated at Bockenheimer Landstraße 104 in Frankfurt is transformed into the venue and urban canvas for the Graffiti Academy: German and Brazilian artists introduce a broad range of graffiti styles and techniques to their audience and conduct workshops where young people, adults and families can learn about street art and graffiti in all its diversity. The Graffiti Academy is organised by SCHIRN Kunsthalle in collaboration with KfW Stiftung and prepares the ground for the subsequent Street Art Brazil exhibition.
While the exterior is assigned to graffiti artwork, the inside of the building serves as an experimental space for young theatre groups. The offices accommodate three student groups from the Institute for Applied Theatre Studies at Giessen University who develop and enact performance projects with reference to local issues. The public performances on Sunday, 28 April, are not intended to present a final result but to give insights into the ongoing creative process in the studio. KfW Stiftung supports this project together with Hessische Theaterakademie, Frankfurt.
Graffiti Academy: 15 to 28 April 2013
Registration via SCHIRN Kunsthalle Frankfurt
28 April 2013
OUT OF OFFICE - KfW building as a stage for graffiti art and performance projects
Free admission
2pm: pas par paresse "Mouchacha" - Catalina Insignares, Elena von Liebenstein, Miriam Coretta Schulte and Mayasari Feradina Zoesmar
The French-German theatre group addresses the conflictual relationship between busyness and emptiness, between junk and artistic recycling.
3pm: Temporary Arrangement
Alexander Bauer, Christopher Krause, Hannah Ruoff, Julia Urgatz and Alma Wellner Bou
4pm: [moo: ] Hyunsin Kim
Graffiti Academy: Video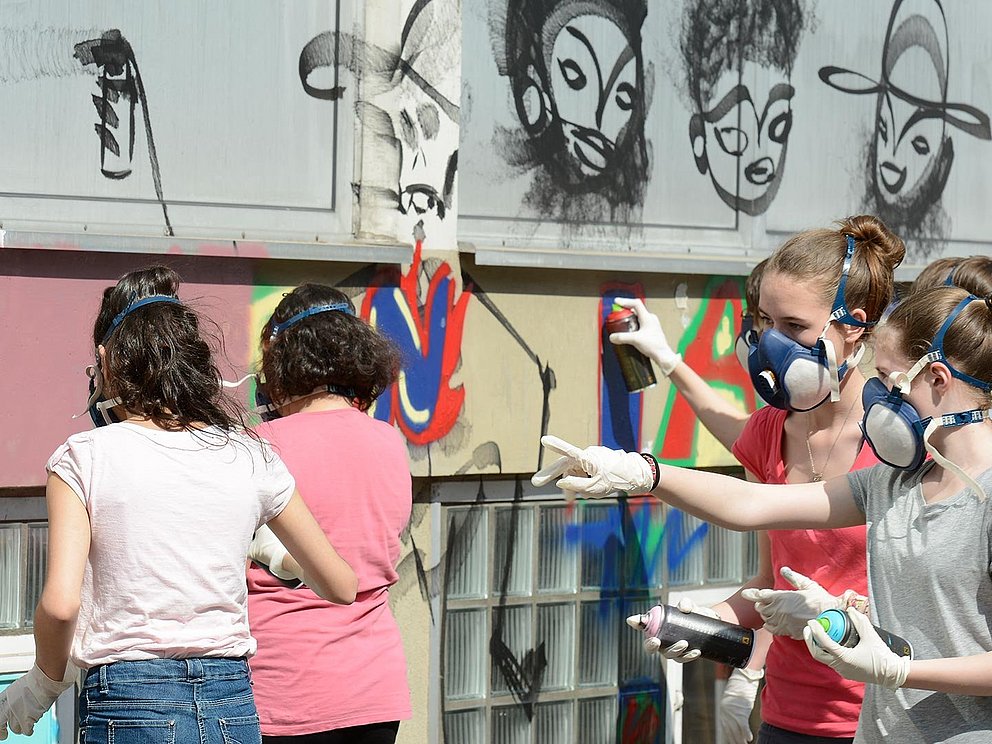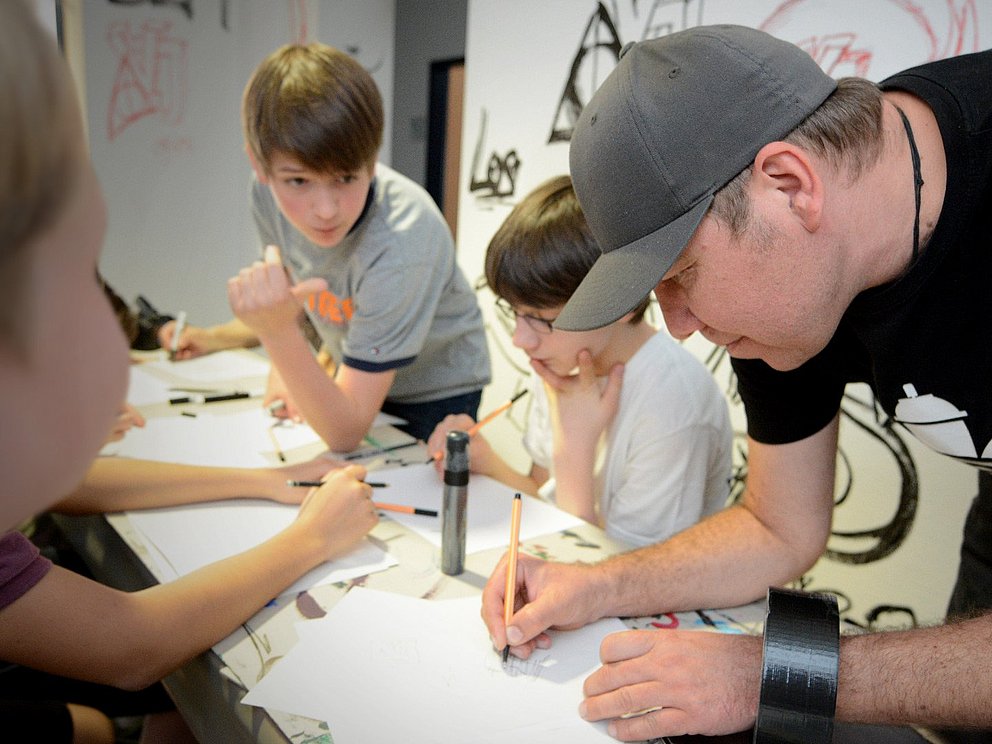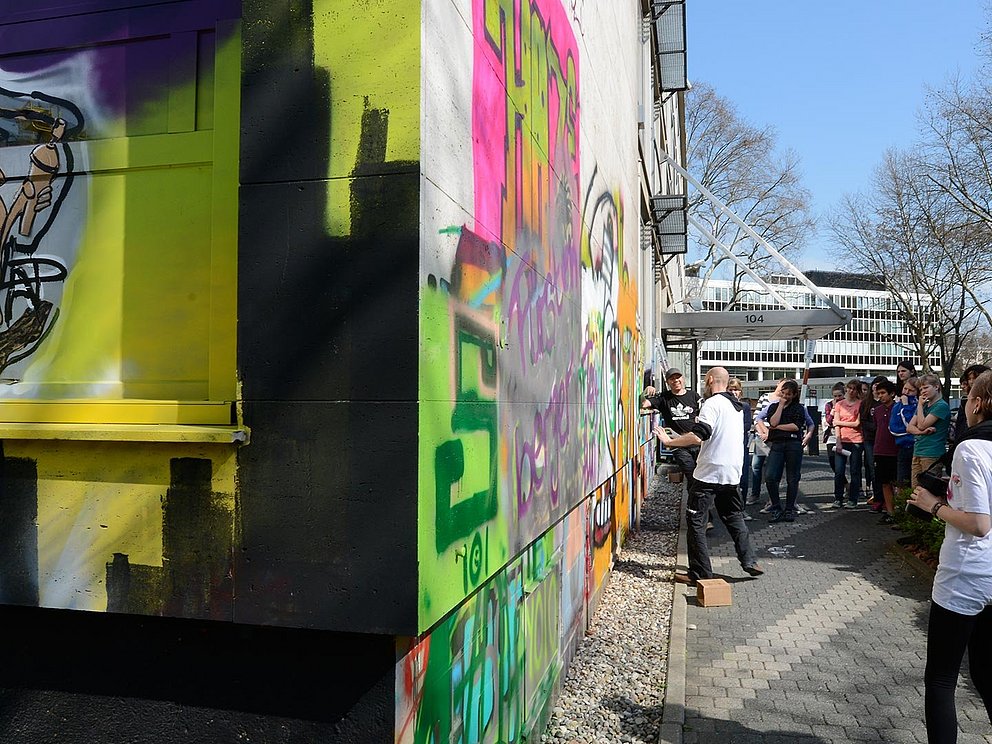 ---
---
Programme Management
Daniela Leykam
---
Photo credits:
All Images: Source: Schirn Kunsthalle Frankfurt 2013, Author / Photographer: Norbert Miguletz and the artists.