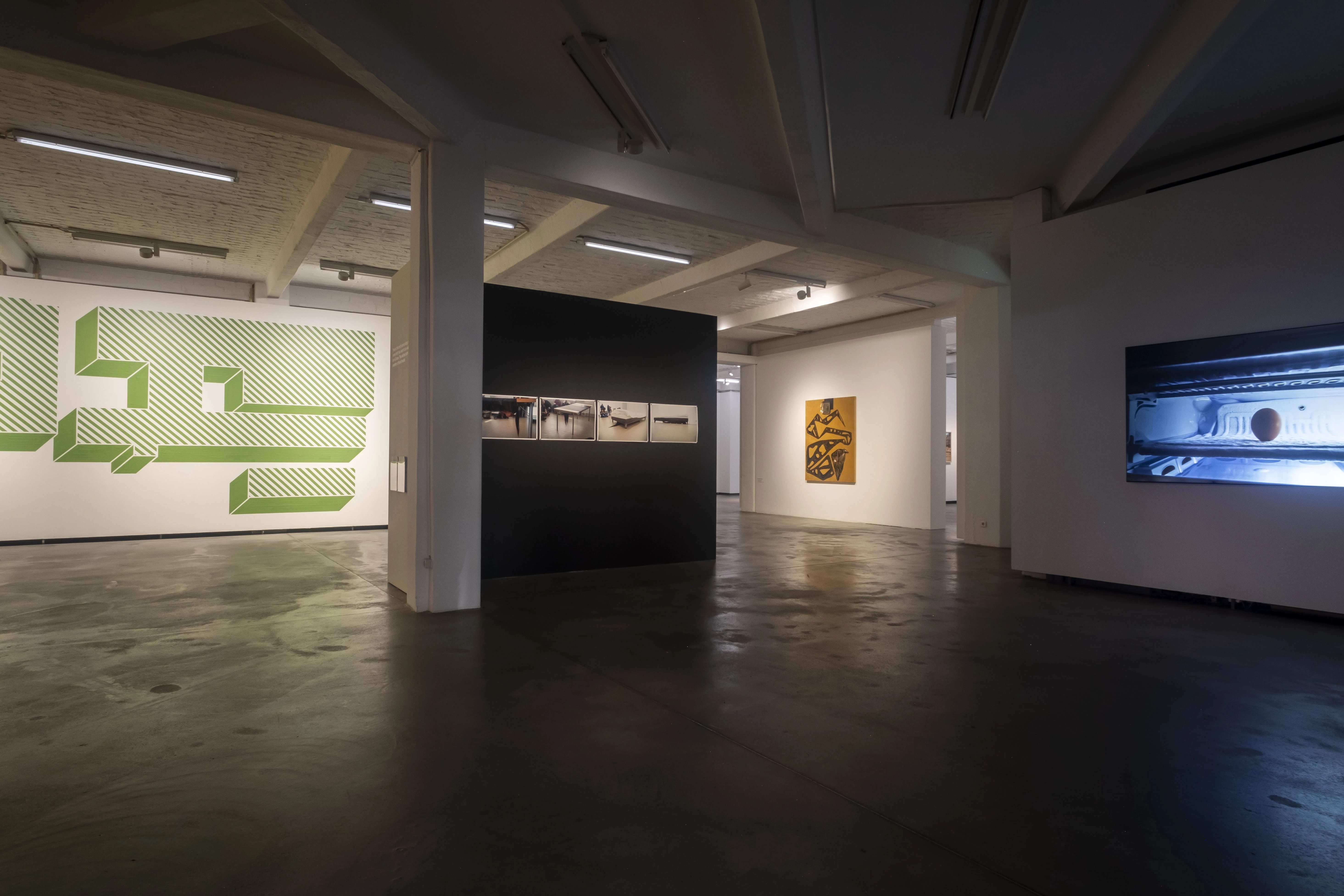 SEE YOU AT THE STUDIO! Ten Years with Artists in Residence
---
Exhibition at Künstlerhaus Bethanien Berlin
EXTENDED - Due to high demand, the exhibition has been extended until 14 January 2024!
What is the significance of studio space against the backdrop of a globally anchored art practice? Between 2013 and 2023, KfW Stiftung collaborated with Künstlerhaus Bethanien in Berlin with an international artist residency programme that promotes artistic production and intercultural dialogue in a globalised world. These past ten years have seen the same two residential studios inhabited by a total of twenty fellows, used as a place of work and exchange, and opened to the public for regular open-studio events. Renovated and furnished with only the essentials, the transformation of the studio began with each new arrival. Since the inception of the programme, the studios have served as workshops, laboratories and offices, as archives and art depots, as meeting places and exhibition venues. Against this background, the studio itself becomes the conceptual starting point of the exhibition. It presents the versatility of the artists and opens the view into the studio. In this sense: See You at the Studio!
With Salwa Aleryani, Orawan Arunrak, Vartan Avakian, Gaëlle Choisne, Regina José Galindo, Ahmed El Ghoneimy, Gladys Kalichini, Khvay Samnang, Hamlet Lavastida, Daniel Lie, Talya Lubinsky, Stary Mwaba, Elia Nurvista, Andrés Pereira Paz, Matheus Rocha Pitta, Prajakta Potnis, Thabiso Sekgala, Nguyễn Thị Thanh Mai and Carla Zaccagnini.
An exhibition by KfW Stiftung in cooperation with Künstlerhaus Bethanien.
Accompanying the exhibition, a catalog of the same name has been published by the Berlin-based Distanz Verlag. with contributions by Nikita Dhawan, Yvette Mutumba and Barbara Wittmann, among others.
Curated by Daniela Leykam
---
Events
02.11.2023 - 7pm: Opening
02.11.2023 - 7pm: Performance "World Score" (Carla Zaccagnini)
03.11.2023 - 5pm: "Silent Pandemic", Intervention (Regina José Galindo)
04. + 05.11.2023 - 3pm: "Palm Reading", Reading Group (Elia Nurvista)
07.11.2023 - 6pm: Guided Tour with the Curator
17.12.2023 - Book Flea Market

Guided tours take place every Thursday at 6pm, alternating between German and English.
English guided tours: 16.11., 30.11., 14.12.2023
Registration for the guided tours is required via presse@bethanien.de.
---
World Score - 02.11.2023
Carla Zaccagnini's music performance World Score is a comparative study of the melodies of national anthems. By gathering the notes that are used by various anthems at the same time, the work exposes shared musical motifs that often form the foundation of these songs, now reassembled into a composition for a vibraphone. With this "anthem of anthems", the performance invites reflection on the process through which countries forge their identities through different forms of representation, asking what truly defines a nation – a question closely tied to the search for a language beyond borders that can foster global understanding. The first version of the sound work was created by a custom algorithm commissioned by the artist, which gathers all the notes that coincide, being played in two or more anthems at each given moment. The composition created with the notes that are common to all national songs was originally an electronically generated sound file pressed into a limited edition vinyl record. In 2019, the musician Garda Holmkvist made an instrumental version for a quartet. In 2023, in the context of this exhibition, Christopher Dell has developed a new interpretation of the work for vibraphone solo.
Carla Zaccagnini (*1973, Buenos Aires, Argentina) is a visual artist and writer. She was a guest curator for the 34th São Paulo Biennial. She has exhibited in institutions such as Museo Nacional Centro de Arte Reine Sofia (Madrid), Guggenheim Museum (New York), LACMA (Los Angeles), Malmö Konsthall, Röda Sten Konsthall (Gothemburg), Museo Experimental el Eco (Mexico City), MASP (São Paulo) and Van Abbemuseum (Eindhoven). Zaccagnini lived most of her life in Brazil, and is currently based in Malmö, Sweden. Carla Zaccagnini was an artist in residence at Künstlerhaus Bethanien in 2013–2014.
---
Silent Pandemic - 03.11.2023
The performances by Regina Galindo aim to make visible the ongoing violence against marginalized bodies. In her intervention Silent Pandemic for the exhibition See you at the Studio!, she sheds light on femicides, targeted murders of women. On average, ten women are killed by their current or former partners in Germany every month. In Silent Pandemic, Galindo translates this statistic into ten bodies lying under shrouds on the floor of Bethanien's exhibition space. These figures block the path of visitors and confront them with the real, corporeal consequences of this violence, beyond the abstraction of numbers.
Regina José Galindo (*1974, Guatemala City, Guatemala) is a performance and visual artist. In 2005, she was awarded the Golden Lion for Best Young Artist at the 51st Venice Biennial and has participated in many international art festivals, including the 49th, 53rd and 54th Venice Biennials and Documenta 14 (Athens and Kassel). She has exhibited in institutions such as MAXXI – Museo nazionale delle arti del XXI secolo (Rome), Guggenheim Museum (New York), Museo de Arte Moderno (Guatemala City) and Museum of Modern Art (New York). Galindo is based in Guatemala City. Regina José Galindo was an artist in residence at Künstlerhaus Bethanien in 2014.
---
Palm Reading 04. + 05.11.2023
During the workshop, artist Elia Nurvista will welcome a group of max. 12 guests in her specifically created communal area inside the exhibition space. Together, the group will read a chapter from the book Palm Oil: The Grease of Empire, by Max Haiven and engage in a conversation on the visible and invisible implications of palm oil. Elia Nurvista's artistic practice revolves around the political, communitarian and aesthetic potentials of food and eating, addressing global power dynamics and social-economic inequalities using everyday commodities like rice, sugar and exotic fruits. She works with diverse media including textiles, prints, sculpture and video, combining them into spatial installations that can also serve as platforms for discourse and performance. In her most recent series, Long Hanging Fruits (2022–ongoing), Nurvista explores the cultivation of palm oil in Indonesia, tracing its origins as a native African plant and the journey of its seeds through colonial practices. For See You at the Studio!, Nurvista transforms the space enveloped by the mural into a realm of hospitality and exchange. Through events involving the consumption of palm oil, discussions and readings, Nurvista invites examination of palm oil as a symbol of the exploitative industrial economic cycles inscribed within colonial structures since the 19th century. To participate in the workshop all that is required is your curiosity and time. Duration ca. 90 min.
Elia Nurvista (*1983, Yogyakarta, Indonesia) is a visual artist who explores a wide range of mediums with an interdisciplinary and installative approach. In 2015, she initiated the BAKUDAPAN food study group, bringing together perspectives from different disciplines such as anthropology and philosophy to explore the topic of food. She has exhibited in institutions such as the 15th Sharjah Biennial, Dhaka Art Summit, the 2nd Karachi Biennial and the 9th Asia Pacific Triennial, of Contemporary Art (Brisbane). Nurvista is based in Yogyakarta. Elia Nurvista was an artist in residence at Künstlerhaus Bethanien in 2018–2019.
---
Image Credits
01. Installation View "See You at the Studio!" with Hamlet Lavastida, Regina José Galindo and Andrés Pereira Paz, Photo: Mathias Völzke
02. Installation View Vartan Avakian, "Collapsing Clouds of Gas and Dust", Photo: Mathias Völzke
03. Installation View Daniel Lie, "Regarding yellow thoughts", Photo: Mathias Völzke
04. Installation View Salwa Aleryani, "Tribute to a passerby (ROAMER)", Photo: Mathias Völzke
05. Installation View Gaëlle Choisne, "Luggage astral_crystal" & "Eat me (softly)", Photo: Mathias Völzke
Facts
Date: Thu, 02. Nov 2023, 19:00 Uhr
Duration: 02. November - 14. January 2024
Location: Künstlerhaus Bethanien, Kottbusser Straße 10, 10999, Berlin



EXTENDED - Due to high demand, the exhibition has been extended until 14 January 2024!
Opening Hours
3 November - 23 December 2023
2 January - 14 January
Tuesday - Sunday, 2 - 7pm
From 24 December 2023 until 2 January 2024, the exhibition will remain closed
Free entry, registration to visit the exhibition is not required.
www.bethanien.de
More information about the residency programme can be found here.
Other events of interest to you: